A Worldwide touch of Dutch..
A Worldwide touch of Dutch..
Tuning is a Dutch exporter and trader of cut flowers and plants, located across the street from the Aalsmeer Flower Auction. Since 1931 we are specialized in sourcing and custom packing orders for both overseas and European destinations .​

The COVID-19 virus outbreak has created incredible challenges and consequences as well as changed the course of our daily life and foreseeable future.   
Our lives and our businesses have all been affected in ways we could not have never imagined.
In recent weeks, our industry suffered unprecedented sales declines, as did many businesses. 
We have been working diligently on plans to keep servicing our customers during this unprecedented time.  
Over the course of the last few days, governments worldwide have ordered shut downs of non-essential businesses. 
Due to government mandates and our obligation to protect the health of our communities and workforce, we have no alternative but to evaluate on a daily basis, what the next course of action shall be.
We know these are difficult and uncertain times and we are taking every possible action to remain open as long as public safety is not at risk.
On behalf of all of us at Tuning, we hope that you and your families remain healthy and safe.  
We will keep you informed as soon as we have updated information on our ability to resume serving you again.
Fore more detailed information on specific destinations thru out the world, please contact your salesperson.
Sincerely,


Tuning NL and Tuning USA management teams
Tuning has been outstanding with their top-quality flowers from Holland as well as their helpful staff to handle all of our needs for years. They get us what we need, when we need it and always go the extra mile to make sure it is done promptly with the upmost care. Thank you Tuning NL and keep up the good work!

Frank Metropolitan, USA
Since the early 1970's, DVflora has entrusted Tuning to handle our most specialized Dutch flower needs. Experience matters which is why all of our custom packed, specific need, high quality products are supplied by Tuning. Tuning is not just a supplier but rather a partner in business and great friends too.

Steve Catando, Purchasing Manager- DVflora
"Thank you Tuning for always supplying the best quality fresh flowers and plants for the past 5 years. They do such a good job with customs orders and large scale projects such as the FlorAr flower festival! Looking forward to the next 5,10,20 years!"

Katinka, Romania
Liebes Tuning Team Wir möchten uns heute mal bei Euch bedanken für die gute Zusammenarbeit und sehr gute Auswahl an Schnittblumen und Topfpflanzen. Bei euch ist fast nichts unmöglich, was wir bei Euch bestellen -das versucht Ihr immer für uns zu bekommen. Die Qualität und Frische ist immer ausgezeichnet. Wir arbeiten gerne mit Euch und unsere Kunden sind sehr zufrieden. Liebe Grüße aus Bamberg Das Blumenteam vom D+W

D+W, Deutschland
"Amazing grower direct link with Anco Pure Vanda. With a constant wide variety of cut vandas and special new varieties this is the go to place if you want to have the freshest flowers that will make any customer happy!"

Tibi, Hungary
Please be aware that the Flower Auction and therefore Tuning NL will be closed on the following national holidays:
Easter Monday – Mon, Apr. 22
King's Day – Sat, Apr. 27
Ascension Day – Thu, May 30
Whit Monday – Mon, Jun. 10
Christmas – Wed, Dec. 25 & Thur, Dec. 26
New Years – Tues, Dec. 31 2019 & Wed, Jan. 1 2020
Christmas day: Wed, Dec. 25 (2019)
Boxing day: Thu, Dec. 26 (2019)
New Year's Eve: Tues, Dec. 31 (2019)
New Year's day: Wed, Jan. 1
Valentine's Day: Fri, Feb. 14
Intl. Women's day: Sun, Mar. 8
St. Patrick's day: Tue, Mar. 17
Passover: Apr. 20 – Apr. 27
Easter Sunday: Sun, Apr. 28
Secretaries day: Wed, Apr. 24
Mother's Day (US/CA): Sun, May 12
Thanksgiving (CA): Mon, Oct. 14
Trade Show (NL): Nov. 6-8
Thanksgiving (US): Thu, Nov 28
Hannukah: Dec. 23-30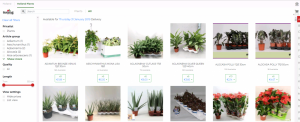 Time to get excited about our BRAND NEW WEBSHOP!!! As a company we always like
Read more »
CHECK OUT OUR INSTAGRAM FEED !
The 40th anniversary of Tuning BV, back in 1971, was commemorated with a Delft Blue cup. On it, a firm handshake is pictured, a sign that business-relationships and friendships go well together. That's what the company is aiming for.
So, the company was founded in 1931. Its founder, Willem Hendrik Jacobus George "Bill" Tuning (born Naarden, The Netherlands November 23, 1914) then nearly 17 years of age, had recently returned from the South of France where he attended an agricultural college at Lorgues.
His wish was to start a business in the centre of the then much smaller Dutch Flower industry in Aalsmeer, which was not an easy thing to do in the 30's of the last century, the entire world being immersed in a terrible economical crisis.