Wo Blumen blühen lächelt die Welt
Wo Blumen blühen lächelt die Welt
Firma Tuning ist ein holländischer Exporteur für Schnittblumen und Pflanzen. Unsere Niederlassung ist gegenüber der Versteigerung in Aalsmeer. Seit 90 Jahren sind wir der Spezialist im Verpacken von Schnittblumen und Pflanzen, die wir über die ganze Welt verschicken.
Tuning has been outstanding with their top-quality flowers from Holland as well as their helpful staff to handle all of our needs for years. They get us what we need, when we need it and always go the extra mile to make sure it is done promptly with the upmost care. Thank you Tuning NL and keep up the good work!

Frank Metropolitan, USA
Since the early 1970's, DVflora has entrusted Tuning to handle our most specialized Dutch flower needs. Experience matters which is why all of our custom packed, specific need, high quality products are supplied by Tuning. Tuning is not just a supplier but rather a partner in business and great friends too.

Steve Catando, Purchasing Manager- DVflora
"Thank you Tuning for always supplying the best quality fresh flowers and plants for the past 5 years. They do such a good job with customs orders and large scale projects such as the FlorAr flower festival! Looking forward to the next 5,10,20 years!"

Katinka, Romania
Liebes Tuning Team Wir möchten uns heute mal bei Euch bedanken für die gute Zusammenarbeit und sehr gute Auswahl an Schnittblumen und Topfpflanzen. Bei euch ist fast nichts unmöglich, was wir bei Euch bestellen -das versucht Ihr immer für uns zu bekommen. Die Qualität und Frische ist immer ausgezeichnet. Wir arbeiten gerne mit Euch und unsere Kunden sind sehr zufrieden. Liebe Grüße aus Bamberg Das Blumenteam vom D+W

D+W, Deutschland
"Amazing grower direct link with Anco Pure Vanda. With a constant wide variety of cut vandas and special new varieties this is the go to place if you want to have the freshest flowers that will make any customer happy!"

Tibi, Hungary
An folgenden Tagen ist keine Blumenversteigerung und Tuning NL ist an den Tagen geschlossen:
Ostermontag, 22. April
Königstag. 27. April
Himmelfahrt. 30. Mai
Pfingstmontag. 10.Juni
Weihnachten. 25.+26. Dezember
Silvester u Neujahr. 31. Dez + 01. Jan
15-08-2019 Maria Himmelfahrt
23-09-2019 Herbstanfang
03-10-2019 Tag der Deutschen Einheit
07-10-2019 Erntedank
28-10-2019 Ende der Sommerzeit
31-10-2019 Reformationstag
01-11-2019 Allerheiligen
11-11-2019 Martinstag
18-11-2019 Volkstrauertag
21-11-2019 Buss- und Bettag
25-11-2019 Totensonntag
01-12-2019 1. Advent
22-12-2019 4. Advent
24-12-2019 Heiligabend
25.+26.12-2019 Weihnachten
31-12-2019 Silvester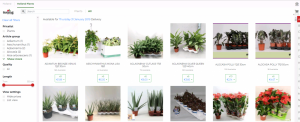 Time to get excited about our BRAND NEW WEBSHOP!!! As a company we always like
Read more »
The 40th anniversary of Tuning BV, back in 1971, was commemorated with a Delft Blue cup. On it, a firm handshake is pictured, a sign that business-relationships and friendships go well together. That's what the company is aiming for.
So, the company was founded in 1931. Its founder, Willem Hendrik Jacobus George "Bill" Tuning (born Naarden, The Netherlands November 23, 1914) then nearly 17 years of age, had recently returned from the South of France where he attended an agricultural college at Lorgues.
His wish was to start a business in the centre of the then much smaller Dutch Flower industry in Aalsmeer, which was not an easy thing to do in the 30's of the last century, the entire world being immersed in a terrible economical crisis.